Lino Prints
A selection of wood block and lithograph prints.
__________

Dawn has produced a range of prints depicting some of New Zealands favourite native trees. These are a popular art souvenir product. They are 38cm x 14cm, a great size for travellers to carry. The prints are individually wrapped in cellophane and are backed.
The trees include Cabbage Tree, Rata, Rimu, Beech, Nikau Palm, and Mamaku, the large tree fern. They are printed on top quality Italian paper, pure cotton.

Click on the picture to go to a bigger version

Prints can be easily purchased with credit cards via paypal.com. We post within New Zealand and internationally.
You can send inquiries or orders to dawnmann@xtra.co.nz
Lithograph Prints

Hand coloured Lithographs
Water towers (Abacus Series)

Water over Rocks (Abacus Series)


Other Lithograph Print Series
Palm People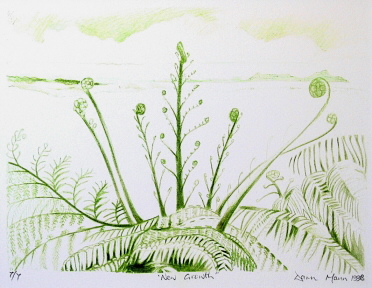 New Growth

One Colour Lithographs
Evening at Franz Josef


Wood Engraving
3 Palms
© Copyright
All designs, original images and artworks on dawnmann.com website are the property of Dawn Mann. Any unauthorised use, copying, or distribution of same is expressly forbidden and may result in legal action being instigated.